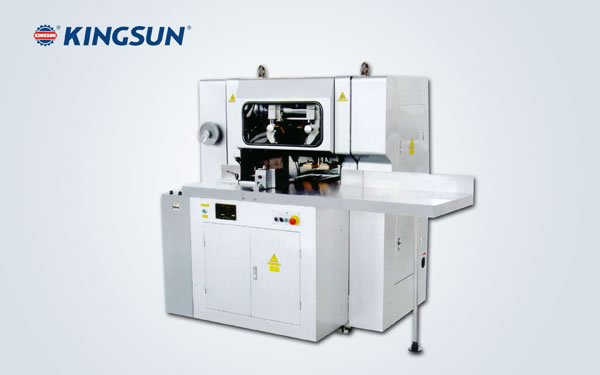 KQS420 Three Knife Trimmer
Detailed information about three knife trimmer KQS420
1. This three knife trimmer is primarily composed of a machine frame, a transmission system, a book presser, a cam, a side cutting system, a front cutting system, a book carrier, a vertical and horizontal book arranging device, a book-delivery system and an electric control system, etc.
2. The main transmission is designed in roller bearing structure and adopts splash lubrication, so it features well leak tightness.
3. Our three knife trimmer adopts manipulators for book arranging, which enables books in good order all the time.
4. People only need to put books in the book carrier, and then our three knife trimmer can automatically finish the following steps.
5. Our three knife trimming machine is designed with fully enclosed structure which helps prevent paper scrapes from entering into the machine.
6. This post press equipment is equipped with a foot switch for controlling electro magnetic clutch. This provides our trimmers with more convenience and higher safety standard.
7. An oil feeder is equipped in our three knife trimmer, to lubricate machine wearing parts periodically and rationally, except few guide ways.
8. The front cutting system of our three cutter knife is designed with fast positioning cutter apparatus, thus reducing cutter replacement time.
9. Our three knife trimmer is designed with a cutter-leaning device, which avoids paper tearing and guarantees high quality books.
10. The main motor is controlled by an imported variable frequency converter, and there is a counting device for the book-delivery system. Additionally, motor speed and delivered book numbers are both displayed on the screen.
11. The technical function of our three knife trimmers have reached advanced international standard.
Main specifications of three knife trimmer KQS420
| | |
| --- | --- |
| Trimmer model | KQS420 |
| Max. cutting size | 420×300mm |
| Min. cutting size | 80×80mm |
| Max. cutting height | 100mm |
| Cutting speed | 28 time/min |
| Motor power | 4KW |
| Outer dimensions | 2415×2050×1676mm |
| Machine weight | 3000kg |
If you are looking for a reliable three knife trimmer manufacturer, Kingsun Machinery Company is your ideal choice. We at Kingsun Machinery Company can provide not only trimming machines, but also variety of other post press equipment, like paper cutting machines, window patching machines, automatic gluing machinem and cardboard shredders, to name a few.
Our company is located in Wenzhou city, a port city in China. This location offers us convenient transportation by sea, land and air, which helps reduce transporattion fees. Welcome global customers to contact us for more information.