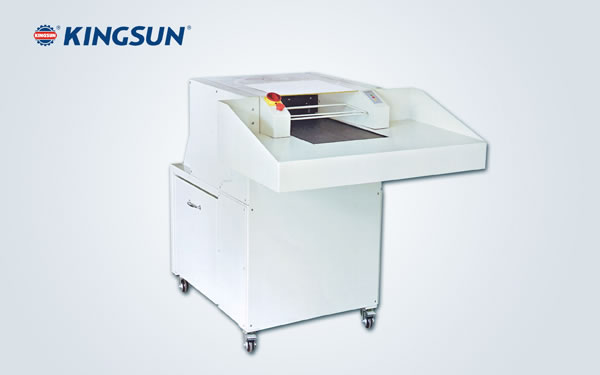 Industrial Paper Shredder KS-610
Six reasons for choosing industrial paper shredder KS-610
1. Our industrial paper shredder is equipped with a 4kw motor and designed with heat protection function, which ensures a wide range of applications. This industrial shredder is suitable for raw materials like paper fasteners, pins, magnetic cards, CD, floppy disk and hard paper, etc.
Additionally, it is designed with several shredding modes for shredding different materials.
2. KS series industrial paper shredder adopts conveyor belt type working mode. This provides convenience for shredding of hard objects and wastepaper balls. Conveyor belt working mode also guarantees operator's safety.
3. This industrial paper shredder is designed with shredded paper compacting function. This helps avoid frequent clearance of shredded paper, thus highly improving the working efficiency.
4. KS series paper shredder is designed with complete safety devices and auto stop function for door open. When the wastepaper container is full, the paper shredder will also stop operation. These devices and functions guarantee operators' safety and a longer machinery lifetime.
5. Our industrial paper shredder is designed with both sliding wheels and fixed feed, which ensures either free moving or a stable base.
6. A material thickness sensing system is available, which provides our paper shredder with more convenient operation.
Main specifications of industrial paper shredder KS-610
| | |
| --- | --- |
| Shredder model | KS-610 |
| Working mode | conveyor belt type |
| Shredding thickness | 70 sheets 70g/m2 |
| Shredding speed | 373mm/s |
| Feeder width | 428mm |
| Waste container | 560×660×560mm |
| Feeding table | 1000× 600×270mm |
| Machine weight | 420kg |
| Electricity | 380V, 50Hz |
| Motor power | 4KW |
| Industrial standard | 32757 (Germany) |
Kingsun Machinery Company is a professional industrial paper shredder manufacturer based in China, and we have been in this business for over 20 years. Our company is located in a coastal city of China. This location provides us with reduced transportation fees, low cost labors, and easy access to information. Hence, we are able to provide you with high quality machines at economical prices.
In addition to industrial shredding machines, we can also produce die cutting machines, plastic bag production lines, slitter rewinders, flexo printing machines, and pharmaceutical packing machines, and more. Welcome to choose our products.