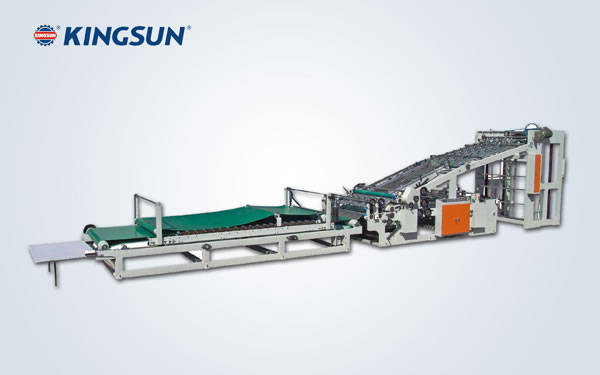 AFL Series Automatic Flute Machine
Why choose our automatic flute machines?
Why choose our flute machines? Because our automatic flute machines feature simple operation, convenient maintenance, high lamination speed, low noise, and high laminating precision, etc.
1. Our automatic flute machines are driven by timing belts imported from Japan. These timing belts are characterized by good flexibility, strong tensile, good durability and high wear resistance, thus ensuring high precision lamination.
2. This flute machine can automatically supply glue and is equipped with a glue recycling device.
Glue amount is adjustable, thus guaranteeing uniform spreading of glue on paper materials. This glue system avoids glue waste, reduces cost and ensures higher quality.
3. Advanced suction belt is adopted for bottom paper feeding. This ensures that A, B, C, D, E and F flute, multi-layer corrugated paper strips, etc. can also be smoothly delivered, when the flute machine is running at a high speed.
Technical parameters of AFL series automatic flute machine
| | | | |
| --- | --- | --- | --- |
| Laminator model | AFL-1300 | AFL-1450 | AFL-1600 |
| Max. sheet size | 1,300×1,100mm | 1,450×1,100mm | 1,600×1,400mm |
| Min. sheet size | 350×350mm | 350×350mm | 450×450mm |
| Laminating precision | ≤±1.5mm | ≤±1.5mm | ≤±1.5mm |
| Laminating speed | 100sheets/min | 100sheets/min | 100sheets/min |
| Total power | 12KW | 12KW | 13KW |
| Machine length | 12.5m | 12.5m | 15m |
| Weight | 6,800kg | 7,200kg | 8,000kg |
Kingsun Machinery Company is an experienced automatic flute laminating machine manufacturer in China. In order to satisfy customers' demands on machines for different applications, we can also supply printing equipment, packaging machinery, and post printing machines, and more. These machines are commonly used in food and pharmaceutical packaging industries, book and periodical printing industries, paper label making industries, among many others.
For more information, please contact with Kingsum Machinery Company, a reliable flute laminator manufacturer in China.